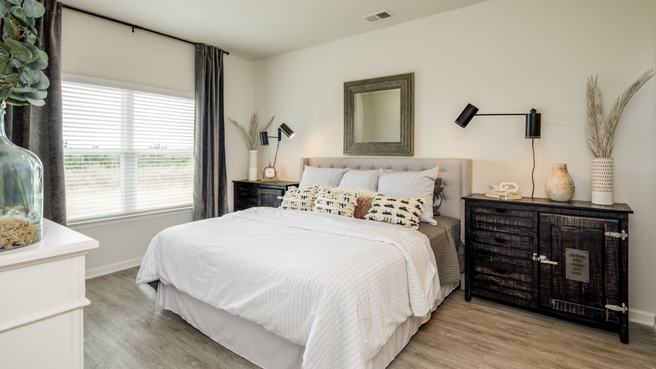 With design trends coming and going each year, it can hard to stay in the know! From traditional to sustainable, the Ranch Cottages for Rent team curated a list of some of the top 2023 interior design trends to help you maintain a stylish home!
Bring the Outdoors In
In today's world, eco-friendly is all the rage! Incorporating natural elements within your cottage adds warmth and provides a unique look to the space. Introducing a mixture of different woods, stones and wools throughout the home and sustainable furniture and earthy design elements helps showcase a trendy and welcoming interior!
Stick to Tradition
You can never go wrong with traditional styling! Traditional home décor will never go out of style, from vintage chic to mid-century modern. Introducing dark woods, light design elements and warm-toned colors will provide a modern version of traditional design. Harmoniously blend new purchases with vintage finds to create a unique yet classic aesthetic within your cottage.
Live Life Colorfully
Out with the dull, in with the fun! With beiges and greys declining in popularity, keep your cottage home on-trend by adding a pop of color within your living space. Incorporate furniture, home décor and design elements that boast dark and moody tones. Colors that bring warmth to the home are steadily climbing in this year's design forecast, including brick, caramel and creamy white. Highlight dark greens, blacks or deep purples to achieve a moodier look.
Texture, Texture, Texture
Texture is a top contender in the 2023 design trends forecast! Whether you want to add depth to your space or feature unique pieces within your cottage, transform your home by incorporating texturized furniture, rugs, home décor and more! Rising in popularity over the past few years, velvet is a great option when considering adding texture to a space. From couches to throw pillows, velvet can be found in various design and color opportunities. Other ways to incorporate texture within your home are plush rugs, wicker baskets, quilted blankets and leather seating.
Offering stylish, luxury cottage homes highlighting today's top design elements, Ranch Cottages for Rent residents never have to worry about falling behind on trends. We are currently leasing in Loganville, Hampton, Brunswick, Athens and Dawsonville. Follow along on social media to be the first to know about upcoming communities in Cartersville and Savannah. To learn more about Ranch Cottages for Rent communities near you, visit www.ranchcottagesforrent.com.