Introducing: Dogwood, Your Friendly Ranch Cottages for Rent Pal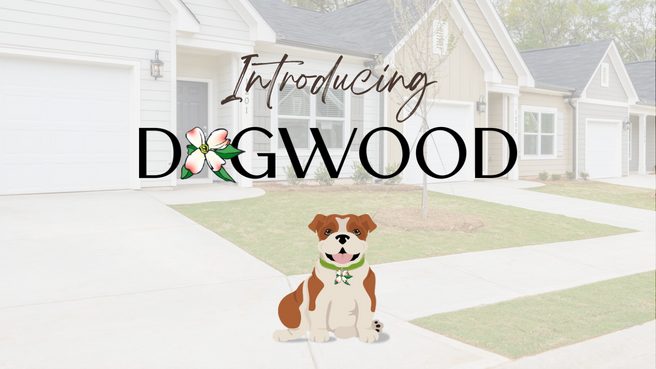 Our team members have been keeping something under wraps for a few months now. It's finally time for me to say woof woof and formally introduce myself with a big tail wag!
My name is Dogwood, and I can finally announce that I am the official Ranch Cottages for Rent pet mascot. My friends at Jim Chapman Communities wished for a new perspective on their pawsome floorplans. Who better than your friendly neighborhood bulldog?
Most know me as Dogwood, but some of my friends call me Woody for short! A natural fan of the University of Georgia Bulldogs (Go Dawgs!), I'm your friendly neighborhood pooch who loves playing fetch and basking in the sun at the bark park.
Since we're getting to know each other, I want to share a few of my favorite things that your furry friend can also enjoy at The Cottages! Apart from spotting squirrels in the backyard or birdwatching from the large windows in my home, I love to say hello to my friends around the neighborhood during long walks on the community's sidewalks and soak up some sunshine with my human friend. And let's face it, it is so much fun to race in the dog park and give my friends a good sniff to see where they have been.
I have a fun, stress-free life thanks to flexible floorplans and scratch-resistant vinyl plank flooring in every Ranch Cottages for Rent home! When I get the zoomies or chase my parents around the house, I don't get yelled at because they know I won't scratch the floor!
I have to say goodbye for now but don't worry. I'll come back soon to share my favorite parts of living at The Cottages and pet-friendly spots near your community so you and your best pal can have a ball. Speaking of which, where did I leave mine? Oh, I see it over there under the couch!
Dig up a new life at The Cottages and bring your furry friend along for the best life at Ranch Cottages for Rent. I'll save you a sunny spot at the bark park!
Visit our Cottage Communities page to find leasing opportunities near you, or stay updated on our News & Awards page!