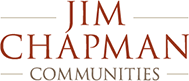 We're all in this together
Communities everywhere –from big cities to small towns and neighborhoods– are struggling to adjust to the ever-changing news and restrictions arising from the outbreak of the novel coronavirus. As a community concerned about our residents, employees, and the world at large, we'd like to share with you the steps we have implemented to keep everyone who lives in and visits a Jim Chapman Community safe and healthy.
To ensure the health and safety of our residents, staff, and guests, our indoor common spaces, including clubhouses, model homes, and onsite sales areas have all been appropriately cleaned using safe, quality products. As an added precaution, these spaces will be closed to the public through the end of the month.
Our sales team is available to assist you
Whether online or in-person, our sales team is available to assist you with your home buying journey. However, the best way to ensure your health and safety, and that of our sales team, is to take advantage of our online tools. It's easier than ever to shop for your new home from the comfort of your current home.
Your tour is at your fingertips
What can you see with today's technology at your fingertips? Everything! Using tools such as Facetime, Zoom, live chats, text, emails, and the good old telephone, we can conduct all aspects of a community visit and home purchase.
If you'd like a virtual tour, one of our sales agents will guide you around the model home, serving as your personal tour guide and pointing out the features of the home, just as if you were in the space yourself. You'll also be able to see our community amenities, download floorplans, view additional videos of model homes, and so much more!
And, as always, someone will be available to answer your questions about each Jim Chapman Community and the homes that are available.
We'll see you soon
When you're ready for an in-person visit to one our communities, feel free to call ahead and schedule an appointment. We've taken all the recommended precautions to clean and disinfect our communities' sales areas, clubhouses, model homes, and available homes.
Before we know it, we'll all be greeting each other with hugs and handshakes again. Until then, we want you to know that we are here for you, and we can safely facilitate your home buying process from A-to-Z either online or in-person.
Schedule a Tour with one of our team members.
If you prefer a self-guided tour, view our available homes.