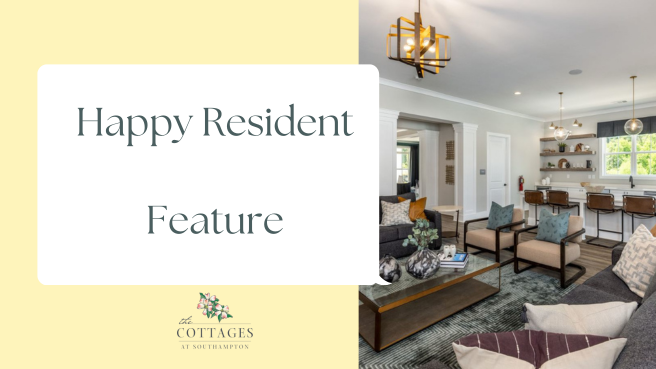 Inside each Ranch Cottages for Rent neighborhood lives an entire community of happy residents enjoying a fresh start in some of Georgia's top locations! While our team thrives on sharing everything there is to love about each of our communities, why don't we shine a light on the residents themselves? Hearing stories from our happy community members is the ultimate reward!
Say hello to Monica Payton-Williams, a dedicated mother of two and a residency coordinator at WellStar Spalding Medical Center. Monica embarked on a quest to find the perfect abode for her family and while combing through various apartment listing websites, she stumbled across the Ranch Cottages for Rent website and found The Cottages at Southampton!
She said, "I took it as a sign to reach out… and almost a year later, here we are in my place!"
Nestled in Hampton, Georgia, The Cottages at South Hampton welcomed Monica and her family with open arms. Her first impression was nothing short of magical, falling in love with the community and immediately feeling a sense of home. What sets this community apart is its serene ambiance, meticulous upkeep and outstanding amenities, making it perfect for them.
Monica said, "It's quiet, well maintained, the amenities are amazing, and the staff here is awesome!"
Hampton perfectly balances their wants and needs, presenting a 20-minute commute to work and just a 10-minute trip to nearby shopping at South Pointe Shopping Center and the Tanger Outlets.
When asked what convinced her to call The Cottages at Southampton home, she mentioned the community's cozy and unique atmosphere and its ability to give her family a sense of belonging. She also shared her incredible experience during the Resident Meet and Greet event, where she was given the opportunity to mingle with her future neighbors to take the first steps towards forging a close-knit community.
Monica expresses her gratitude, saying, "To the Ranch Cottages for Rent team, thank you for always being available, thank you for your kind words and thank you for always being willing to go above and beyond!"
Monica also wanted to especially thank Nadine Spain and the onsite team at The Cottages at Southampton, the number one reason she chose to make our community her future home!
If this is the kind of place that you too would like to call home, you can reach out to The Cottages at Southampton here or you can find our other locations here on our Cottage Communities page. Our next community will be opening in November and you can join The Cottages at New Hampstead VIP list to be the first to know about this opportunity near Savannah!