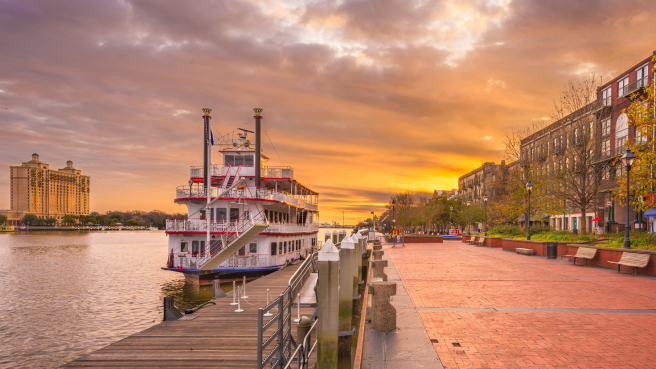 Known for its historic charm and Southern hospitality, Savannah is a captivating city with a delightful mix of culture and entertainment. Showcasing The Cottages at New Hampstead from Jim Chapman Communities, this beautiful coastal gem is an ideal destination for empty nesters, seniors and active adults seeking an enriching experience.
Things to Do
Located on the Georgia coast, Savannah presents a wealth of activities for all interests. Visitors and residents can stroll through picturesque squares, explore art galleries and indulge in local cuisine, providing an array of options year-round to keep everyone engaged.
Nature enthusiasts will be delighted by the numerous parks and nature trails that adorn the city. Forsyth Park, Skidaway Island State Park and Bonaventure Cemetery offer serene escapes amid nature's beauty in a historic setting! For those seeking a cultural experience, Savannah's art scene is can't-miss vibrant stop, boasting numerous galleries showcasing both contemporary and traditional works.
The city also offers a diverse range of water activities for residents and visitors to enjoy. From scenic boat tours along the Savannah River, providing stunning views of the city's historic waterfront, to kayaking and paddleboarding adventures on the serene marshlands – there's something for every water enthusiast. Whether you want to relax on a riverboat cruise or immerse yourself in the beauty of nature while paddling through the marshes, Savannah's water activities promise a memorable experience for all.
Sports Fans Unite!
Embracing a range of recreational sports, including baseball, soccer and golf, the city provides plenty of opportunities for residents to enjoy games at Grayson Stadium. This venue is home to the viral Savannah Bananas, a beloved local baseball team known for its entertaining games and quirky antics.
Bites to Eat
Savannah's culinary scene is a fusion of delectable flavors influenced by its rich history. The city offers a variety of dining options to tantalize taste buds, from classic Southern comfort food to international delights. Whether you're craving shrimp and grits or gourmet seafood, there's a restaurant to satisfy every palate.
Some top places to indulge in Savannah's culinary delights include:
Mrs. Wilkes' Dining Room
The Grey
Leopold's Ice Cream
The Olde Pink House
The Crab Shack
The Grey Market
Treylor Park
and more!
Rich History
One of the most alluring aspects of Savannah is its captivating history. Founded in 1733, the city boasts a storied past, evident in its well-preserved architecture and historical landmarks. When visitors stroll through the famous Historic District, they will encounter cobblestone streets, elegant squares and magnificent antebellum homes. Savannah also offers a variety of historic tours, including ghost tours and trolley tours, which provide a fascinating glimpse into its intriguing past.
Coming Summer 2023, The Cottages at New Hampstead offers prospective residents a fantastic opportunity to call the historic and vibrant city of Savannah home! Now leasing, the community provides residents with a selection of ranch-style renter homes that offer two to three bedrooms, accommodated living and a low-maintenance lifestyle.
To learn more about our available communities within Savannah, visit our Cottage Communities page or contact us today!
Explore more Ranch Cottages for Rent Communities with our friendly neighborhood mascot, Dogwood!